Flamenco Program for Seniors
Work in your own time and at your own pace. At Flamenco NYC, we strive to provide the highest quality of Flamenco dance training to the widest possible student body. Through the study of Flamenco, the students will acquire physical coordination, grace, discipline and self-confidence to inspire them with the joy of dance and self expression.

Fridays, 5:00 pm - 6:00 pm

$25 for each class, or 5-class package for $105

Please contact us if you are interested in joining this class.

We hope to see you dancing with us soon!

​
---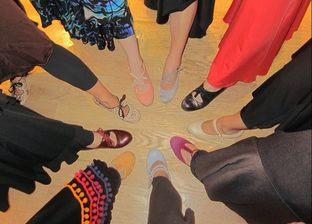 ​A NOTE ABOUT SHOES
Please avoid using shoes with a black rubber sole or heel, or shoes that have been polished around the tip and heel with dark polish. If your shoes have been polished, please let us know beforehand and we'll treat the shoes to remove the polish in those areas. Thank you in advance for your cooperation.